How to become a GCI Chartered Surveyor?
A network to Aggregate and Share
The creation of a network of GCI Approved Experts will enable professionals to aggregate and share best practices in this common fight against global warming.
➡️ This way, the expertise of each person is enhanced, and in return, they benefit from the technical or geographical complementarity of the other experts.
GCI's strategy of deploying its network of Experts through sponsorship allows them to benefit from
synergies specific to their "personal" network 💪
a recurrent income for its animation 💰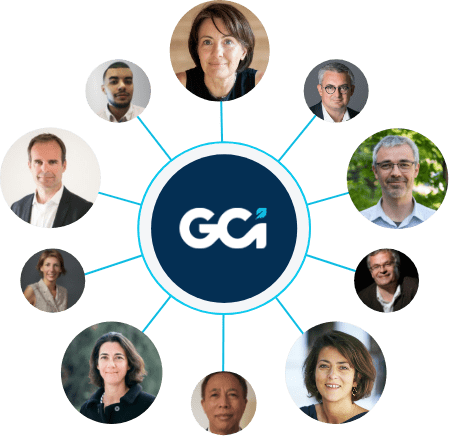 The role of the GCI Expert
The GCI Expert's main mission is to present the GCI services, to convince his interlocutors of their autonomy to use them, and to spread this good practice to all their subsidiaries, subcontractors and suppliers.
In addition, it can offer, or subcontract to the GCI network of experts, support and consulting services for the reduction of GHG emissions. Conversely, if they wish, they can receive this type of mission from GCI.
The GCI Expert and GCI can therefore intervene in two complementary ways:
✅ The GCI Expert will intervene as such, or as a Business Contributor for GCI according to the profile and the need of its clients and prospects.
✅ GCI is the service provider, which can also be a Business Provider through its network for the GCI Expert for its own consulting services.
Highlighting the Expert's profile and expertise on the GCI Expert Gallery and on the GCI user platform.
Access to the GCI platform to carry out the GHG assessment of your company and establish your decarbonation plan.
Training of GCI Experts in GCI products and services and in the use of sales follow-up tools.
Provision of documentary and communication tools to promote GCI services and its GCI Expert profile.
01. Submit your application:
02.
We will then evaluate your application and send you feedback to confirm your approval.
03.
If the return is positive, you will receive an e-mail with the GCI Authorized Expert agreement proposal to be analyzed and returned signed.
04. Upon return of the signed agreement we send you a welcome e-mail with :
Welcome booklet for experts
Your @gci.green address
Your personal 50% discount code for your first carbon footprint
Your 10% discount code to communicate to your prospects (and which will allow you to have a 15% commission on the sums collected by GCI)